Servings: 1 Prep: 1 min Cook: 1 min Total: 2 mins
Here we have the famous "one minute muffin" or "OMM" or "muffin in a minute" or "MIM", whichever way you happen to tilt. It's little more than a quick batter mixed up in a cup, bowl or microwaveable shape of some kind, and then "nuked" for between 60 and 90 seconds, depending on the strength or power of your particular machinery.
I've known about these quick little delights for years, but didn't own an operational microwave (long story!). Alas, I never actually tried one! Years later, they simply never became a part of any of my own personal routines. Being that I operate a low-carb blog, my website felt incomplete without at least having ONE flavor of the famous OMM. This resulted in the Cheddar Buns; a recipe made from a basic flax batter, blended with cheddar cheese and then nuked. Perfect with a BBQ Pork Slider! I really didn't expect much from the recipe, due simply to the fact that there are easily thousands of variations on the MIM scattered all throughout the low-carb Googlesphere. Shockingly, that simple and basic Cheddar Bun has become one of my bigger recipes!
I, being the humble servant that I am, love to give people more of what they want! Below is a basic formula for the OMM. If you make this, as written, it won't taste like anything and you'll wonder whether or not I've lost my mind. Consider it a blank sheet of paper … or … blank sheet of "muffin", as it were. With this basic muffin ratio, you can add or subtract ingredients to make your own creations! Add some sweeteners, pecans, cinnamon, nutmeg and allspice and you have a Pecan Spice OMM! Add some fresh rosemary, goats cheese, walnuts and a few chopped up raisins and you have something really pretty interesting. I'd bet it would be FANTASTIC as a side to a light summer salad!
Point being, this is little more than a start; a beginning to an amazing story … any story you'd like it to be!
Once upon a time …
Spin-Off Stories:
Note: This ratio is half flax and half almond flour. I tend to find it's the best flavor and texture combination, but there are those that have no love for flax. In that case, simply use 100% almond flour. Alternately, you can use 100% flax meal, to drop the carbs to almost nothing. Also note that you can use coconut flour.
Baking Note: I am often asked if these can be baked. Yes! This is just a simple batter. You can grease a muffin pan and bake at 350 F for about 12 to 15 minutes, or until golden brown. That's it!
Ingredient
Calories
Fat
Protein
Carbs
SA's
Fiber
Net Carbs
2 tbsp (13g) golden flaxseed meal
60
4.5
3
4
0
4
0
2 tbsp (14g) almond meal
80
7
3
3
0
1.5
1.5
1/2 tsp (2g) baking powder
2.5
0
0
0.5
0
0
0.5
1 large (50g) egg
72
5
6.5
0.5
0
0
0.5
1 tsp (4.67g) fat (melted butter, olive oil, coconut oil, bacon fat, etc.)
33.3
3.7
0
0
0
0
0
Grand Totals (of 1 servings):
247.8
20.2
12.5
8
0
5.5
2.5
Totals Per Serving:
247.8
20.2
12.5
8
0
5.5
2.5 g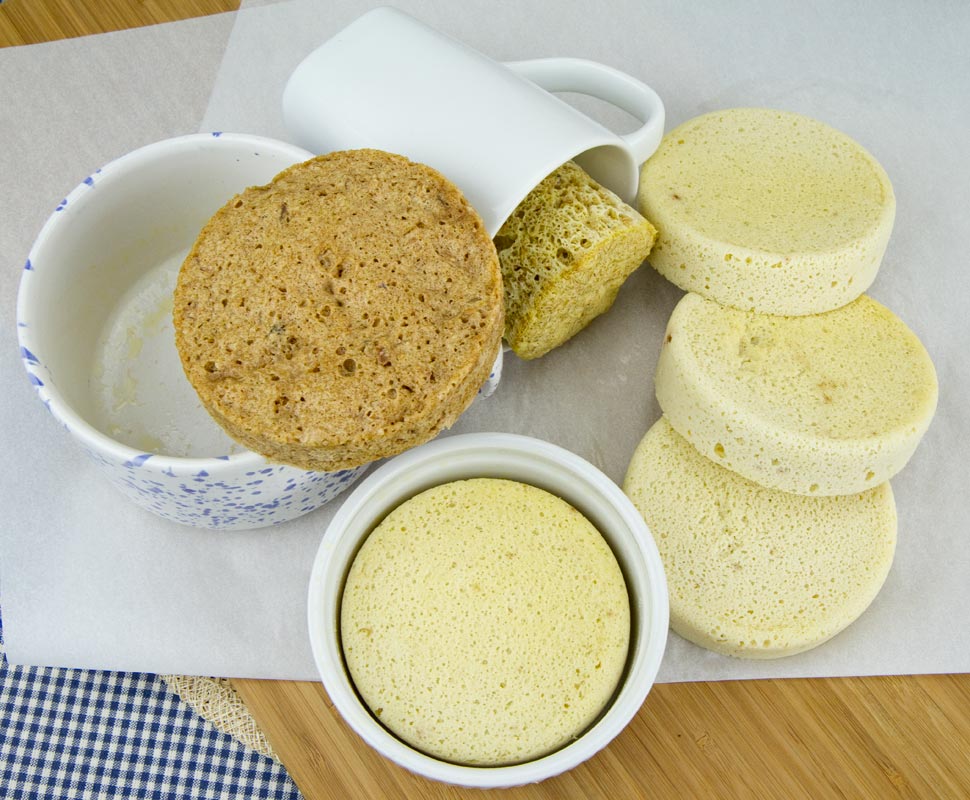 Ingredients
2

tbsp

golden flaxseed meal

2

tbsp

almond meal

1/2

tsp

baking powder

dash salt

1

large

egg

1

tsp

fat (melted butter

olive oil, coconut oil, bacon fat, etc.)
Instructions
Combine your flax, almond meal, baking powder and salt in a coffee mug, or other microwaveable safe mold, of some kind. (I like to grease my mug first, but I don't think it's necessary)

Mix in your egg and fat/oil/butter.

Microwave on high for 60 seconds, (90 seconds if using a weaker microwave, or if you've added lots of other ingredients, like cheeses, nuts, frozen berries, etc.)

Eat and enjoy!

Never miss a recipe! – get the free Keto App
STANDARD FTC DISCLOSURE: In order for me to support my blogging activities, I may receive monetary compensation or other types of remuneration for my endorsement, recommendation, testimonial and/or link to any products or services from this blog. Please note, I only ever endorse products that are in alignment with my ideals and I believe would be of value to my readers.
* Learn More: More about this recipe and nutrition …